ChangeReaction for Windows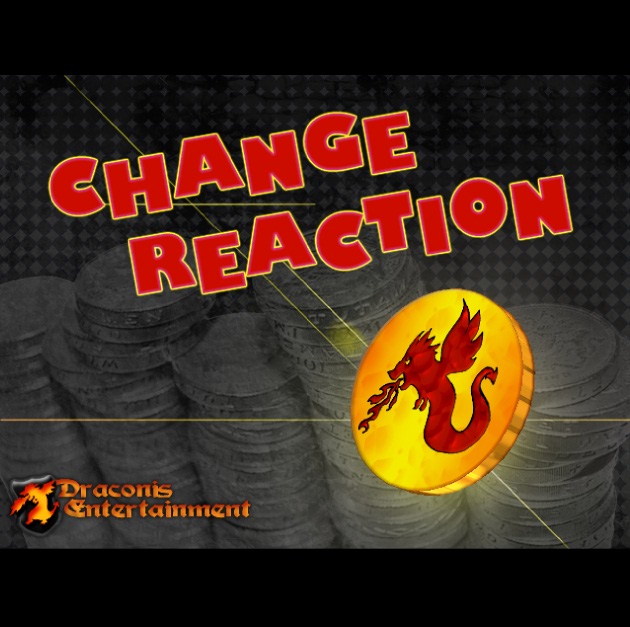 Developed with the Next-Gen Draconis Game Engine
ChangeReaction, Draconis Entertainment's classic audio puzzle game for the blind and visually impaired, returns with new audio, three entirely different modes of game play, and a host of new features!
Primarily intended for blind and visually impaired gamers, ChangeReaction is played via the keyboard and your ears. Navigate the game board with the arrow keys, dropping coins on the stacks to create chains of explosions and rack up higher and higher scores! Match three coins of the same denomination vertically or horizontally to trigger a chain reaction that blows up all adjacent coins of the same value! This game has no visual element. Use your fingers, ears, and wits to rack up the highest scores possible!
Choose from three distinctly different variations of game play.
All modes support three difficulty levels.
In ChangeReaction Classic, clear the board of all coins before time runs out!
In LooseChange, clearing the board just got a whole lot more difficult! Bombs explode on coin stacks and scatter their contents across the board for added challenge!
In PayDay, try to keep the board from being cleared against all odds, and rack up overtime by clearing positions on the board which represent the hours of the work week.
Bonus rounds provide a chance to rack up even higher scores!
ChangeReaction 2.0 has been rewritten from the ground up using the next-generation Draconis game engine.
Exciting new sounds and music.
Audio hints to help newcomers navigate the game menus with their ears.
In app instructions and keyboard reference.
What's New in Version 2.1.1.9 (Windows only)
Solved an issue that prevented the application from launching on some 64-bit Windows systems.
What's New in Version 2.1.1.8 (Windows only)
Solved a rare issue that could occur when the app exited, usually when a screen reader was in "sleep mode".
Other minor fixes and enhancements.
What's New in Version 2.1.1 (Windows only)
What's New in Version 2.1.0
Thanks for your tremendous feedback! We've incorporated some of your feature requests into this update.
At the end of play, you are given the opportunity to hear your final score and ranking repeated.
If less than one second remains on the clock when the board is cleared, the time remaining announcement displays with milliseconds included.
The game instructions have been expanded with a reference section for the coin denominations used in ChangeReaction, which also includes fun facts about each coin.
The Escape key now interrupts text-to-speech announcements in most places.
On Mac OS X only, if VoiceOver is active, the graphical logo contains a Accessibility Help Tag which describes it in some detail.
Various minor fixes.
Minimum System Requirements
Windows XP or later
1.9GHz CPU
1GB RAM
Sound card/device
Internet connection for activation